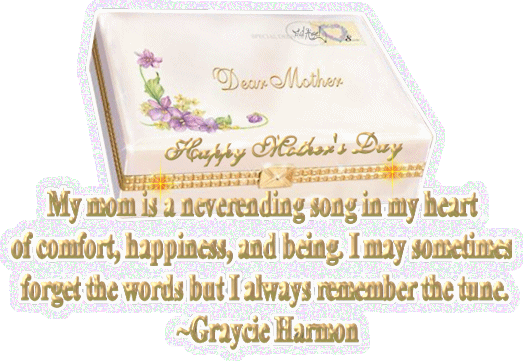 glitter-graphics.com
Mom,
How do I express my love and thanks? You have done so much for me throughout my life that I appreciate so much. Becoming a mother, myself, has given me a new found admiration for you. Yes I get it now, how no matter how old your baby gets they are still your baby (but lets not mention it
again
, you know I'm not one for sappy talks). Thinking of Kara getting older makes me feel sad. I am trying to enjoy every minute that I have with her. Having lost Conner, I know that every day is a blessing. I have had to learn how to let Conner go as you did Jeremy,but it doesn't mean it doesn't still hurt. If only we could have had the opportunity to watch our sons grow. Thinking of Kara growing older and moving out on her own scares me. I know I have a long time to go before that happens but the last three weeks have flown by. I want it to slow down already. Did my life go by fast for you? Is it weird looking at me, your grown child and remember me as a baby? I can't imagine how odd it must be. You were always a selfless mother, putting me first before all else. Being a mother now myself, I realize that was never a burden to you but a blessing. I want only the best for her and I know you did for me. Thank you for all the times we had and for being there no matter what. I know I don't express my feelings very often (probably get that from dad) but I hope you never forget how much you mean to me. I am so glad that we have formed a friendship these past few years. It has been wonderful getting to know each other and sharing our lives as not only mother and daughter but as friends. It's comforting to know I can call you up no matter what time to talk. I know sometimes I have talked your ear off, but I know you wouldn't trade that time for the world. I can't wait for you to come meet baby Kara. She is such a sweet, darling little child. I never knew having a daughter would be so rewarding. I pray that one day when she's older she will look at me as I do you. Thank you mom, for EVERYTHING. I have no words to express the
depth
of my love for you. I hope you have a good day, I wish we could be together. It's just two weeks to go now.
I love you,
Jodie